SORRY BUT DUE TO TRYING TO SEND THE TUTORIAL TO ONE PERSON TWICE ALREADY (this month), AND THEM NOT GETTING MY EMAILS, AND TURNING AROUND AND PUTTING IN A PAYPAL DISPUTE OF CLAIMING TO NOT GET IT....
 I  WILL NO LONGER BE SELLING MY TUTORIAL THROUGH THIS SITE ANY LONGER (WITH A PAYPAL BUTTON). 
IF PEOPLE CAN'T CHECK THEIR SPAM FOLDERS, THEN IT WON'T BE FOR SALE ANYMORE. I AM SORRY FOR THE INCONVENIENCE. Please check Ebay, and you will get it on a CD instead,with delivery confirmation.  Unfortunately the price will go up, because I have to recover my paypal, and ebay fees.  Again, I am sorry another (buyer) has made me have to do this.
These paypal links below are to purchase the PDF FILE sent to you by EMAIL only.
Estos paypal liga son abajo comprar el ARCHIVO en formata PDF enviado por CORREO ELECTRONICO SOLO.
Ces paypal relie au dessous de sont d'acheter le DOSSIER DE PDF envoyé par l'E-MAIL SEULEMENT.
Testimonials:
"Hi Christine~so sorry have taken so long replying and letting you know I received the tutorial. Been so busy catching up on things after having pneumonia! I love the tutorial! I started rooting Trey a couple of days ago and it is the best so far that I have ever done! Awesome tutorial. Would definitely recommend it!"
"What a great tutorial. I"m going to purchase some German Forked needles today! It was definitely worth the buy!"
"This is probably the best instructions and illustrations I have ever seen, I will try by best. Thank you it was well worth the money."
" This tutorial is well worth the money! Christines rooting is to die for! Very well put together and brilliantly done!"
"i bought htis tutorial a while back and it is very very good.......well worth the $$...........
"
" I went through it and got the biggest enjoyment out of it. You did a good job with the pics and diagrams! "
Here is a sample picture of just one of the 18 (19th page contains contact info) pages, included in this tutorial.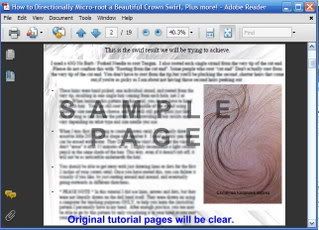 Great for learning or even re-learning a technique for rooting a crown swirl, plus many extras! There is enough detailed information and clear close-up pictures to even learn how to root if you are just starting out!
Some questions you may have will probably already be answered by studying this tutorial, others you may need to ask me : ) and I provided my email.
And in case the paypal links don't work for any reason, you can use this method (emailing me) as a alternative by emailing me HERE
It is copyrighted and not something you can share with others, duplicate or change in any way. Thank you for your interest.
Sincerely,
Christine