*1 Custom Order Available for between now&end of December * 
              Any spot reserved will require at least the cost of kit&supplies to start on doll, as the non refundable Deposit . 
               up front and beginning the work .
                                                           Flexible Lay-a-way options also available 
To inquire about custom orders please email me by  clicking here  or send email to ckb_dolls@yahoo.com     *Read below for details and available Dolls*
 *I will work very closely with you and also provide updated progress photos so you will get to see each  step of the process, if you desire*
 It's best you have in mind what you want  before asking for a price quote.  You can choose :
 A/A or Cacasion "surprize" Baby  ( No indication what so ever how you want it,besides the mold used) . OR : choose from the following ,
Skin tone :                   Caucasion strawberries & cream 
                        Caucasion with Light mottling
                        Caucasion with Heavy mottling (best for the smaller newborns)
                  Very light tan (not very fair skinned)  
                         Ethnic / Biracial
                         Light A/A or Dark A/A
Hair color:   Black , Dark Brown , Medium Brown, light brown, light honey (pale) blond 
Hair texture :         
Wavy, Straight , Curly                
Short hair or semi - long                 * The direction and growth pattern/style will be rooted how I feel best matches the particular baby . *
Kits in stock for Custom Reborning :
Cherish Newborn
Welcome Back Taylor 
Ronnie by Bonnie Brown Micro Preemie
Isabela (large size Reborn infant) 
Here is where you can look to pick out which Doll Mold (Doll face and limbs) you want  :
 Usually if you click on the pictures (after getting to the websites below) you will be able to see what the blank,unpainted kit also looks like.  Any of the kits can be made into a Caucasion OR A/A Reborn baby,or anywhere in between. 
I have made quite a few from these . Here is my latest Bountiful Baby Reborn :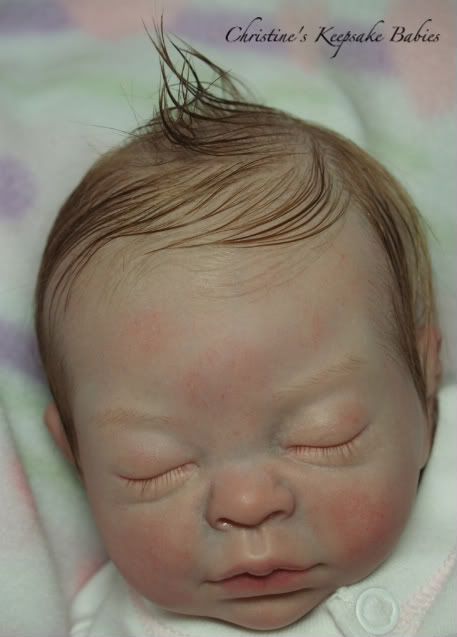 Now go see what she looked like as the unpainted parts ,before al lthe painting,etc.. was done :) By gonig to that website ,she is the " Teagan" Mold/Kit . What an amazing tranformation !
http://www.babyblessings-nursery.com/main.php?link=vinyl-doll-kits Tamie yarie Doll Kits Are VERY Popular.   Here is a Reborn I made using one of her (now sold out ) kits :
http://www.dolldreams.net/cart/index.php?main_page=index&cPath=111 These  are very popular  .  
http://shop.dollsbysandie.com/DBS4/sunshop/index.php?l=product_list&c=8 Many of these are the most realistic dolls available and the most popular ones as well
 Here is a "Noe" I Reborned myself one of the many kits sold at DollsbySandie:
 He was snatched up before he made it to ebay.This is one of my favorate sculpts.  
http://www.creativeimpressionsnursery.com/category_s/36.htm Cathy Rowland has a large variety of reborn doll kits from many of the artists ,including the most popular,most realistic kits available.
 http://www.valshelton.com/ Her kits are very adorable and easy to work with silicone/vinyl mix (if that is the type of vinyl chosen) .  Here is a Val Shelton Binky I reborned myself :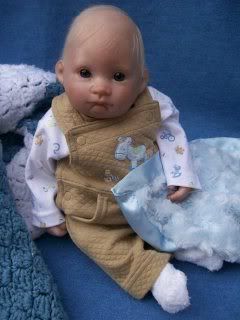 Reborn Berenguer from a Un painted Kit  made for reborn doll artists :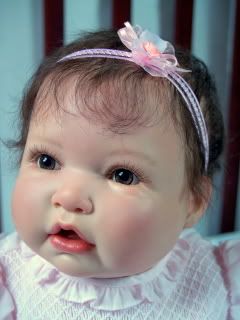 **Sorry, no Reborn Berenguers at this time ** 
Reborn Berenguer From Walmart Playdolls :
 These 2 below sold on ebay . Go look at these same faces at walmart and see the amazing difference between an un-transformed (or un-"reborned" ) one and one(like below) that has been completely changed and more lifelike than ever :) .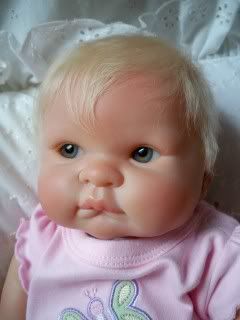 Before and After pic's of a Walmart bought Berenguer Play doll, transformed into a lifelike baby doll Collectable. He was sold on ebay from a .99NR auction that had a winning bid of  $150.00 I currently have other Berenguers made by JC Toys company , in stock at this time.  It is a new product they have, called the La Newborn Nursery Doll. It is 16inches. it costs aprox 20.00 and if your interested in Me reborning one for you, fully re-painted,with real hair,and a cloth body for more posability (or leave the full vinyl body if you desire)  If you buy the doll itself, I will only charge $100.00 ( and if your local).   I will add pictures soon . I took it out of the box,before thinking to take any pictures of those .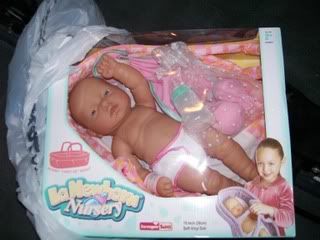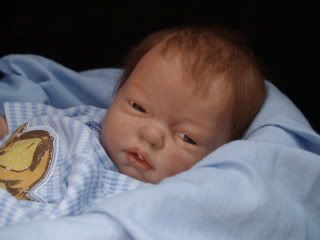 To see examples of my most recent and past work , please visit my photo gallery  by    clicking here
 To find out how much it can cost to make your own reborn baby please click here:
 http://www.angelsunawares.net/money.html 
link and banner added with permission from the Author .
And please keep in mind that it can take years of experience before being able to make a reborn that you would like to have.